About
What is speculess?
Speculess is just another way of sorting through the many micro four-thirds lenses out there. There are many great blogs, reviews, technical breakdowns, and lists on the web and we hope speculess serves as your launching point to those resources.
We think sometimes a user needs a concise, sentence-long, well written "impression" before they are ready to read pages-long reviews of lenses. Speculess enables bloggers and other photogs to write those snippet blurbs about a lens as a quick snapshot. The prospective lens buyer can glance across the short musings and get an immediate feel for the lens.
Bloggers can use these impressions to drive traffic to their sites and promote their reviews
"Speculess" comes from the latin "speculum" (meaning "mirror") and well, "less" as a play on "mirrorless" as in the foundation of the micro four-thirds camera system.
---
Features
User Impressions
Users have the option of writing a short impression of each lens. These impressions will give the casual browser a quick sense of the community opinion of each lens. Bloggers can link their more detailed reviews at the bottom of each impression card
All users can recommend other impressions by clicking the "impressed" button which awards points to the owner.
Your profile contains an "impressions" page which shows all of the impressions you've contributed to the speculess community. This page can be shared with anyone as a way of directing followers to your reviews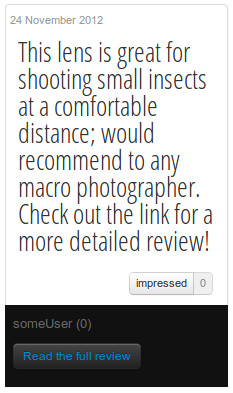 ---
Lens Poll
Each lens page offers a very simple poll as our way of providing a lens rating. Users can simply click "have it", "want it", or "don't want." Below the image of each lens on the lens card (shown to the right) is a color-meter which displays the percentage of users (who have answered the poll) who have this lens, who want this lens, or who don't want this lens.
You can keep track of the lenses you've said you have or want through your profile. You can even share your wishlist with others!
---
Uses
Under the "uses" tab on each lens page, users can specify in one or two words, what they primarily use that lens for. The most used "uses" float to the top so that the casual observer can get a quick idea of what this lens is used for.
Soon we will provide the option to upload sample photographs taken with each lens
---
Feedback
Speculess is quite the nascent webapp and we appreciate any feedback you can provide as we work to make this a useful tool you. Help us out!
Support
If you think speculess is neat, let us know! Submit your praise through the feedback link above.
If you'd like to help us stay afloat, feel free to click on any of the affiliant links (such as this one: amazon.com) before buying something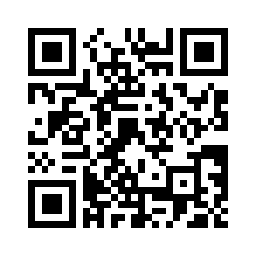 Donate Bitcoins
Of course another great way to support speculess is by donating! Currently we only accept bitcoin donations (scan the QR code to the left).